About Lantech
Lantech manufactures IP transmission products for a range of industrial networks. Its industrial-grade units hold approvals for the rail industry, power and utilities, mining, oil and gas, surveillance, highways and transportation, ships, offshore & ISPs.
Latest Brochure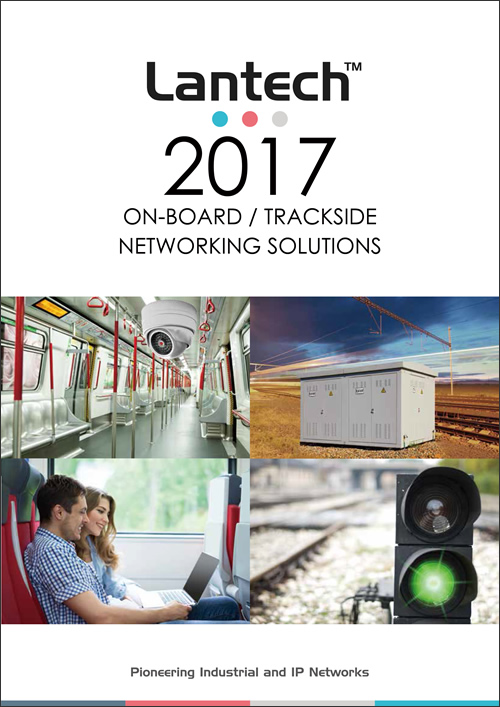 IP Products:
Media converters: 10/100 & Gigabit with PoE & non-PoE versions
Ethernet switches: managed and un-managed, PoE & non PoE from 5-24 ports
SFPs / Mini GBIC modules
Encoders & decoders
Certifications:
UL Class I , Div II for oil, gas & hazardous environments
DNV TYPE approval for ships & offshore platforms
IEC 61850-3 for power utilities
EN50155 for rail
Lantech's Ethernet switches have a number of advantages:
Greater Processing Power
Making them ideal for the increased requirements of surveillance applications. The switches are feature rich and, unlike many devices, are not limited by single on-chip design (SOC). Lantech switches allow you to build everything from simple networks to large-scale, multiple rings and chains with fast recovery times.
Watchdog Loop Protection
If the switch CPU is left hanging, for example in the event of a power outage, Watchdog will reset the switch – which means you don't have to go to site to press the reset button
Install Friendly
Lantech switches include an alarm for ring mis-wiring plus auto-ring restore and a troubleshooting tool to make life that bit easier on site.
CISCO Discovery Protocol
CDP enables Lantech switches to be used in a network with Cisco devices. It gathers and shares information about neighbouring devices such as the operating system and IP address.
Further information about Lantech