About KBC Networks
KBC Networks manufactures IP, fibre optic and wireless transmission products for commercial and industrial networks. Its industrial-grade units feature extended operating temperatures and hardened casings making them ideal for security & surveillance networks, access control systems, transport networks and industrial control systems.
IP products:
Media converters: 10/100 & Gigabit with PoE & non-PoE versions plus an SFP unit
Ethernet switches: managed and un-managed, PoE & non PoE from 5-24 ports
SFPs / Mini GBIC modules
ThruLink – a secure, hardware VPN that allows secure video, voice & data transmission to be transmitted over public networks such as the internet and 3G/4G/LTE
Encoders & decoders
Ethernet-to-coax line drivers
Wireless products:
KBC's wireless products operate in the licence-free, 5GHz band. Units come in hardened casings and can be supplied pre-configured at no extra cost. For throughputs of up to 99Mbps choose the WESII and WES3 ranges and for 230Mbps+ choose WES2HT.
Point-to-point – 5GHz, up to 230Mbps
Point-to-multipoint – 5GHz, up to 230Mbps
Dual redundant ring mesh – 5GHz, up to 230Mbps
Fibre optic products:
KBC's fibre optic products are available in wall-mount, compact, 19″ rack-mount and card & chassis configurations for multimode and singlemode fibre. For simple, point-to-point networks, KBC has the Digital Standard range. For anything more complicated choose ASFOM. ASFOM supports a wide range of signals and allows you to specify the mix and quantity of channels within one unit. Please contact us when specifying ASFOM products.
Digital Standard range – video, data & contact closure for point-to-point configurations
ASFOM – multi-channel, mixed units that you specify – video, audio, data, contact closure, telephone, point-to-point, bus & redundant ring configurations
Further information from KBC
Please click on the icons below: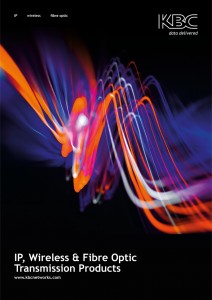 Brochure               ThruLink video                   Website