Altenberg World Championship bobsleigh track enlists barox switches for its safety monitoring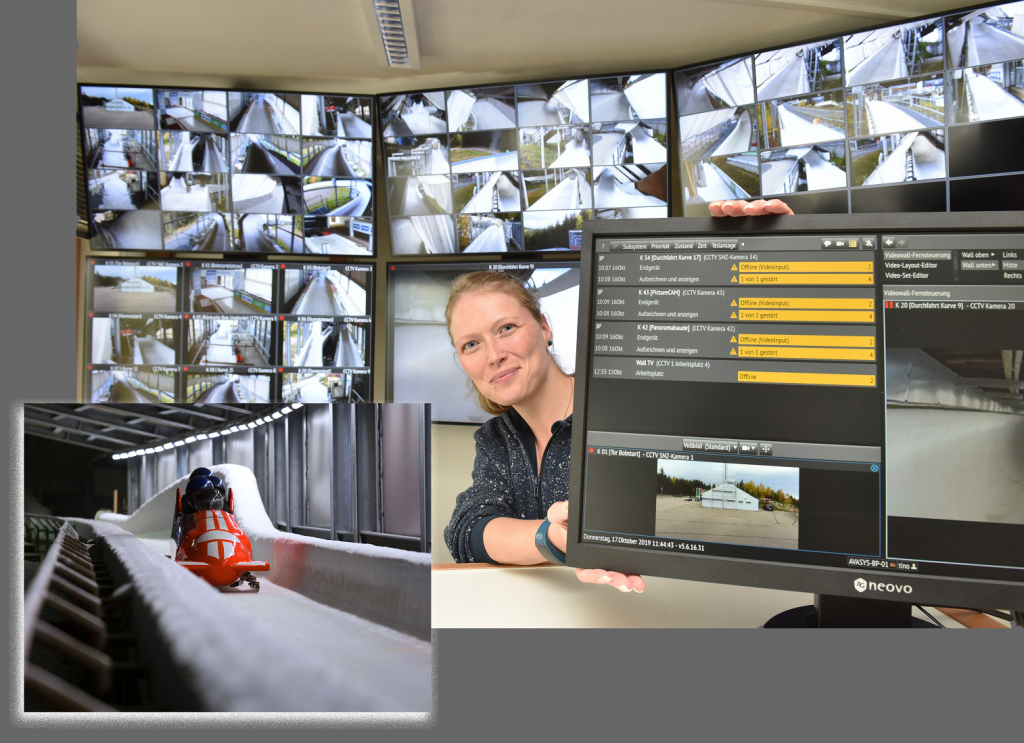 Altenberg World Championship bobsleigh track enlists barox for its safety monitoring
barox Kommunikation AG, the global manufacturer of professional video switches, media converters and IP extenders specifically designed for video applications, has been enlisted to help maintain safety at the Altenberg racing sledge and bobsleigh track.
Situated in the Saxon Eastern Ore Mountains district, near to the border with the Czech Republic, the Altenberg racing sledge and bobsleigh track is renowned for hosting national and international competitions, including European and World Championships, as well as World Cups for bobsleigh, toboggan and skeleton.
With a track length of 1,413m and featuring 18 banked curves, Altenberg is one of the most demanding artificial ice racing tracks in the world. At the end of 2019, barox transmission equipment was specified and installed by PKE Deutschland GmbH, to provide video surveillance monitoring transmission of the entire ice channel. In total, 42 cameras now feed high-resolution video streams into the new barox based IP network.
Integrating the ice track's video cameras into the data network, barox PoE switches and injectors feed live video streams to a local server, and onto to the track's control room. From the control room, all the essential areas of the bobsleigh run can be monitored, whether that be for a training session or competition run. "The new surveillance system brings a great relief, because it now allows us to see every inch of the system," says Tino Klein, Technical Manager at the Altenberg racing sledge and bobsleigh track. "Of course, the system is primarily important for safety reasons, because it enables us to continuously monitor athletes in the ice channel. But also, the work of the operators, timekeepers and commentators in competitions is also simplified by the state-of-the-art technology.
"Since installing the new video surveillance system, thanks to the barox switches, we have had trouble-free image transmission. This is particularly important at the Altenberg racing sled and bobsleigh track, as the video surveillance system also automatically records the speed of the pilots, which can be up to 140km/hr. Another special feature is the automatic switching of the cameras. Inside the ice channel are electronic beams, which as soon as a pilot passes through them, trigger cameras along the runway. Through this automatic switching of the cameras, the entire journey of an athlete through the ice channel is recorded. As soon as the pilot has reached the finish, he can immediately load the video of his run onto a USB stick for review. This gives him the opportunity to analyse any mistakes and learn from them. The new video surveillance equipment is valued by many well-known athletes from bobsleigh, luge and skeleton, who use the track to prepare for championships."
In summary, Eric Altstädt, project manager at PKE Deutschland GmbH explains why the company chose barox as a partner for this project: "barox network components are specially developed to cater for the high demands of video surveillance networks. In short, you have the reassurance that their equipment will work reliably, transmit smoothly and without packet loss."
For more information on the barox range of professional video switches, customers can visit www.barox.ch/en or contact Clear Vision Technologies on 01622 232600, email [email protected], or visit www.cv-tech.tech
– Ends –