barox release new 480W PoE DIN Rail Industrial Managed Switch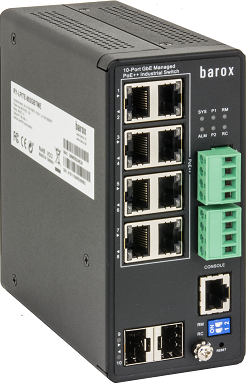 PRESS RELEASE
5th June 2019
barox release new 480W PoE DIN Rail Industrial Managed Switch
barox, the manufacturer of professional standard switches, media converters and IP extenders specifically designed for video applications, has released a new Layer 2/3 DIN Rail Industrial Managed Switch, designed to meet the demands of PoE heavy video applications.
A rugged, high-quality switch for use in high performance 10/100/1000Mbps Ethernet ring networks in compliance with IEEE802.x, the barox RY LPITE-802GBTME features eight copper ports with PoE, PoE + and PoE ++. The switch allows two or more ports to build one or more fault tolerant rings, where, for example, a two-port bundle can be used to provide 480W (Max), configured as Port 1 60W/Port 2 60W, or Port 1 90W/Port 2 30W, etc. In the event of a network interruption, the ring closes automatically (in less than 20ms), to maintain the availability of the system.
For the backbone, two SFP 100/1000Base SX/LX/ZX bays can be used for multimode or single mode fibre. The switch can also be used as a stand-alone device, for point-to-point connections or connection modules. The extensive possibilities of the supplied barox management software allows the switch to be deployed in systems with high functionality demands, such as PTZ camera domes, LED illuminators, wipers and heaters – negating the need for a network injector.
"The new 480-Watt PoE DIN Rail Industrial Managed Switch providers installers and end-users with the power to support the latest PoE heavy applications," says Rudolf Rohr, barox Co-founder & Managing partner. "As well as active PoE performance management and reporting, and automatic camera re-boot, the switch features extra high backplane performance for smooth video transmission at full port occupancy, and jumbo frames up to 9600Bytes are supported at 100Mbps. Other network friendly
functionality includes DMS integrated network monitoring and control, graphical network overview, device discovery, error handling, network diagnostics and sophisticated security protection mechanisms to guard against unauthorised access."
To find out more about the new barox RY LPITE-802GBTME DIN Rail Industrial Managed Switch, and full range of barox professional video switches, customers can contact Clear Vision Technologies on 01580 212999, email [email protected], or visit www.cv-tech.co.uk
                                             – Ends –