barox RY-LGSP28 Series switch - finalist in the Benchmark Innovation Awards 2020
Press Release:
barox RY-LGSP28 Series switch – finalist in the Benchmark Innovation Awards 2020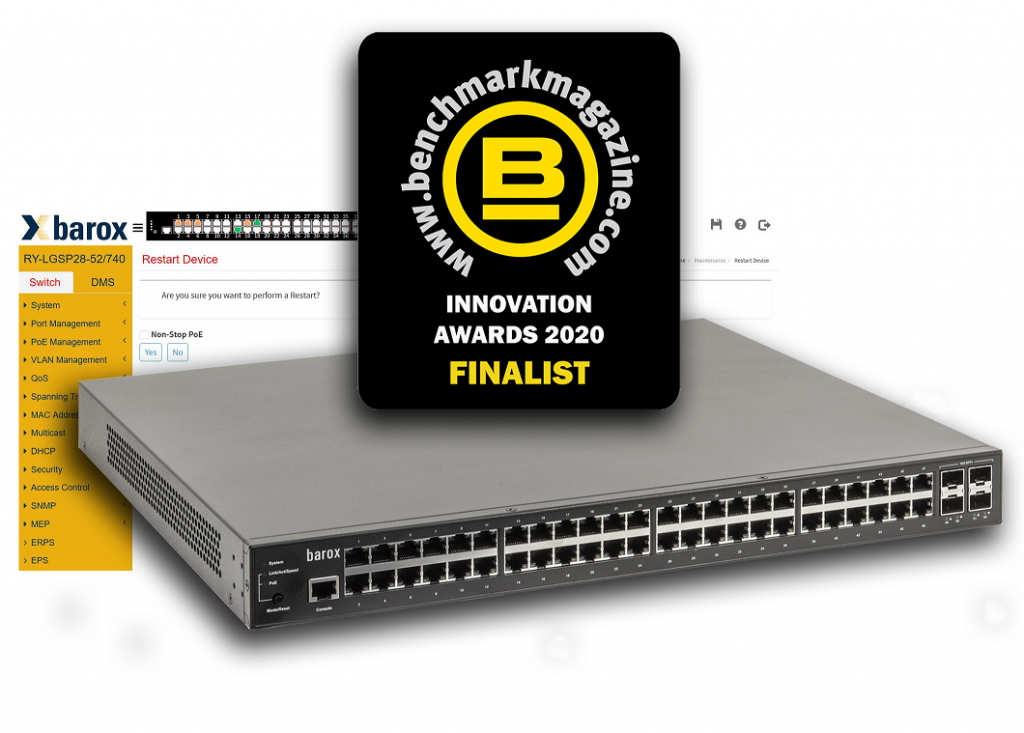 barox Kommunikation AG, the global manufacturer of professional video switches, media converters and IP extenders specifically designed for video applications, is proud to announce that its RY-LGSP28-52/740 Managed Ethernet switch, has become a finalist in the Benchmark Innovation Awards 2020.
Dedicated to promoting technological innovation and smart solutions for the electronic security industry, Benchmark magazine runs its annual Innovation Awards scheme to recognise and reward innovative thinking.
The first product in the 'next generation' RY-LGSP28 Series Managed Ethernet switch range, the barox RY-LGSP28-52/740 Benchmark Innovation Awards 2020 finalist product, has been designed to raise the game for high data volume transmission devices. Developed to cater for the demanding requirements of video networks, the RY-LGSP28-52/740 is a 48-port, POE+ layer-2/3 switch, with L3 functionality suitable for video over IP and video streaming in multicast.
Developed from customer feedback, the barox RY-LGSP28-52/740 ensures cameras stay operational when a re-boot task needs to be performed. For example, when changing network cameras or updating firmware, the RY-LGSP28-52/740's 'Non-stop PoE' function can be set to supply all ports with 'always on' power. This clever functionality means that cameras can remain powered, with no vital camera video footage being lost during routine engineering procedures – a particularly important feature within high-security applications.
The RY-LGSP28-52/740 delivers streaming video with no signs of stuttering, even when every one of its 48 ports are loaded with Megapixel cameras. To achieve this highly accomplished level of smooth video transmission performance, the barox Ethernet switch features (up to) 25% higher backplane capacity. The RY-LGSP28 Series Ethernet switch's powerful mix of sophisticated features and functionality also include Precision Time Protocol, Ethernet Ring Protection Switching and advanced Access Protection, Management, Performance, and System (AMPS), which provides network protection from unauthorised access.
Providing a live graphical overview of the entire network topology, barox's Device Management System helps to manage security, networks and connected devices. For diagnostics, a Port mirroring tool is also available to support servicing and set-up requirements.
"It is a great honour for barox to receive this industry recognition," says Rudolf Rohr, barox Co-founder & Managing partner. "I believe that barox can really bring something advantageous to the market when considering switches made for video. Barox has great expertise in the specialist video and data transmission sector, and has developed the experience and tools to provide customers with extremely robust technology."
For more information on the barox range of professional video switches, customers can visit www.barox.ch/en or contact Clear Vision Technologies on 01622 232600, email [email protected], or visit www.cv-tech.tech
– Ends –