New in – Siklu, Fibre-like Capacity over Wireless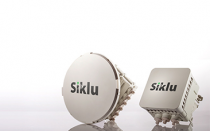 9th January: We're excited to announce a new addition to the CVT product range. We now supply Siklu E and V band, millimetre wave, wireless units – a range of products that give you fibre-like capacity over wireless – delivering a great combination of wide bandwidth with the flexibility, ease of installation and affordability of wireless.
Find out more about the Siklu range
Millimetre Wave Connectivity
The Siklu EtherHaul range provides millimetre wave connectivity. The units operate in the 60-80GHz bands and deliver throughputs of up to 5Gbps, so they're perfect for backhaul links and security networks. Furthermore, pencil-width beams enable stable transmission in even the most densely populated areas where buildings and foliage can cause significant problems for wider beamwidth devices. The range includes both street-level and rooftop-deployable, plug-and-play units with automatic alignment, making installation simple and straightforward.
Fibre-like wireless – up to 5Gbps FDD
60/65GHz, 70/80GHz bands – no interference
Proven reliability – 90 year MTBF
Integrated layer 2 Ethernet switch
Hitless Adaptive Modulation overcomes weather-related downtime
Simple installation and alignment