Euklis introduce – KLIS TeDe Dual Cam Temperature Detector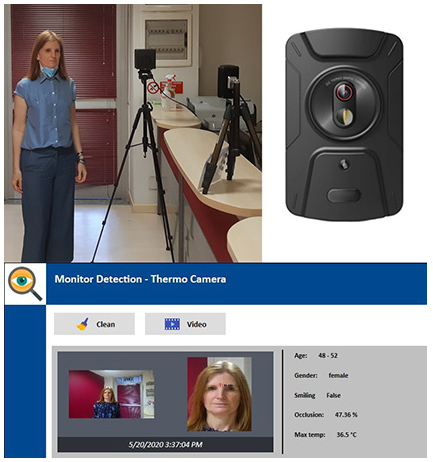 Klis TeDe, Thermo Camera for the measurement of temperature by Euklis.
Clear Vision Technologies in conjunction with Euklis – our Italian partner, are proud to announce a smart temperature measurement system.
Euklis srl, an Italian company, presents Klis TeDe, the Thermo Camera able to measure epidermal temperature up to 10 meters away with an accuracy of +/- 0.3 ° C.
Klis TeDe is a device equipped with a camera and a very high performance FLIR thermal sensor.
Thanks to FaRe Hybrid, the innovative Euklis platform equipped with artificial intelligence, Klis TeDe thermo camera detects the temperature only in the hottest points of the face, is able to centrally manage multiple gates, archives measurements up to 60 days in compliance with the provisions of the GDPR on the processing and storage of data and can generate events towards third-party systems such as Milestone, Genetec and Indigo Vision.
Klis TeDe is a Made in Italy solution which aims at fighting the spread of Covid-19.
For full product specification see our website using the link below:
https://cv-tech.tech/wp-content/uploads/2020/06/Klis-TeDe-Data-sheet-1.pdf